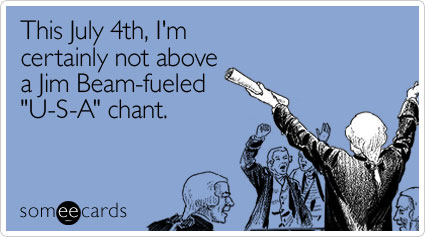 The fourth of July is often considered a day of family fun, it marks a (sort of) mid-point of summer nights, and it is enjoyable for people of all ages. Here are five (tongue-in-cheek) suggestions for spending the day with children and making the best of a day that was probably once entirely fueled by alcohol.
4.
BBQ
. Better yet, let the
kids
do the 'cue-ing and you sit back and enjoy that cold beer. What better way to teach them responsibility?
3.
Spend time with extended family.
I recently read comment on a Facebook post that worded the role of family so poignantly: "Family members have a special ability to make you feel like sh*t." Go ahead, make yourself feel like sh*t, the 4th (of July) only happens once every year. Make it count.
2.
Set-off your own fireworks
.
You pay taxes, why shouldn't you be able to take your kid/spouse to the nearest emergency room after he blows off a finger?
Plus, first responders and emergency medical personnel don't need to relax on this holiday, they're at work anyway.
In all seriousness, have a safe and happy holiday
as you celebrate what is positive about our country!